It's both exciting and incredibly daunting designing your own home. Exciting in the fact you can create a space that's tailored exactly to your tastes and lifestyle. But daunting because you could completely balls it up, left to live with your mistakes staring back at you on a daily basis.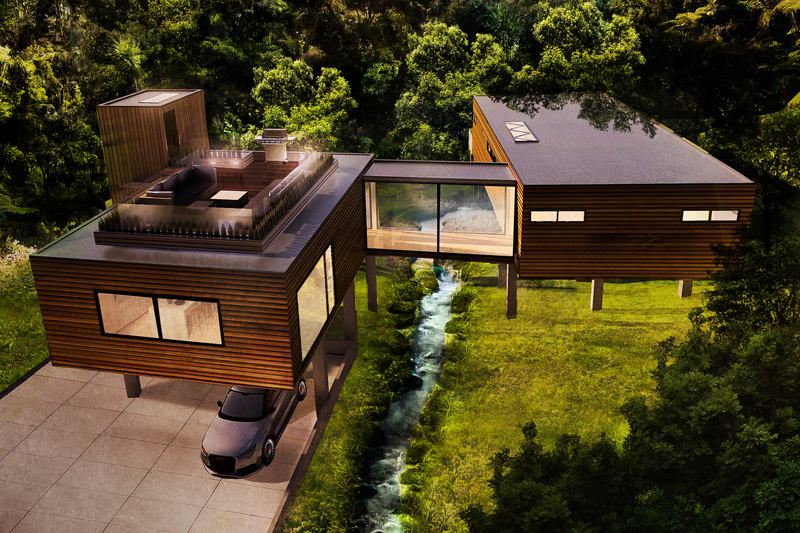 We spent weeks fine tuning our design, eventually arriving at a solution we absolutely love. It's a modest 165sqm (plus 80sqm of deck), made up of three bedrooms, two bathrooms with a large open plan kitchen, living and dining area. Then there's the cherry on top – Kylie's genius idea of a roof top deck, enabling us to maximise our outdoor living sunshine hours.
Thinking ahead we have future proofed the bedroom side so it is capable of holding a second story down the track when we have the funds we'd need to eventually create a 250sqm home.
On the exterior we're going to clad the house in architectural cedar and incorporate as much full height glass as possible, including our bridge connecting the two sides of the house together. While we've incorporated large cantilevered sections to design away the stereotypical 'pole house' look as much as possible because we need to build our home on stilts to keep it above any theoretical flood events.
Armed with the scale drawings we had completed of the house, I asked an architect friend to create some elevations for me, which I then took to visualisation company DeeDee Studio to produce a 3D model of our design.
Wow. It was incredible to see the ideas that had been spinning around our heads for so long come to life and look even better than we had envisaged. The only problem is we just want to move in right now!