Wow, it's crazy to think that we've been living in our house for 8 months now. We absolutely love it.
It's incredibly satisfying building a house that you've designed in your head, then watching it being built and to now be living in it. You spend so much time obsessing over every little detail and considering every aspect. And now to be using those features and seeing everything working the way we intended is a real buzz. The sun comes into the house in the way we hoped. We live in the house the way we thought we would and the independent pods make the home feel so much larger than its 170sqm footprint. And that roof deck. Oh yeah. So good!
To be honest it's also been a huge relief as well. I was a bit anxious moving in, crossing my fingers that we hadn't made any terrible mistakes. I mean we aren't architects and we'd never designed a home before, but now we've lived in the house through a winter and most of a summer, there isn't one thing that we would change. It really does feel like we live in our own little retreat – it's so private and the birdsong is incredibly relaxing, not to mention the trickling stream. It's like being on holiday at home which is awesome and lucky – with the mortgage we have we can't venture too far away anyway! We've also been very lucky because a new bridge has been built over the Milford Marina, so we are now less than 5 minutes walking distance to the beach which gives us the best of both worlds – bush and beach.
I've been embracing my inner green-thumb and spend most of my spare time pottering in the garden or obsessing over the lawns! I'm loving learning about the native plants that will and won't grow on our section – which ones prefer sun, shade or part shade. And the ones that like it wet or like it dry. It's pretty cool watching the plants maturing, the lawn growing and the house settling into its surroundings so nicely.
I'm slowly chipping away at taming more and more of the bush area – ridding it of the ginger and other weeds, and replacing it with natives (the birds are doing a great job helping me too). I've got plans to make wee paths through the bush and Kylie would love a spa under the trees one day too!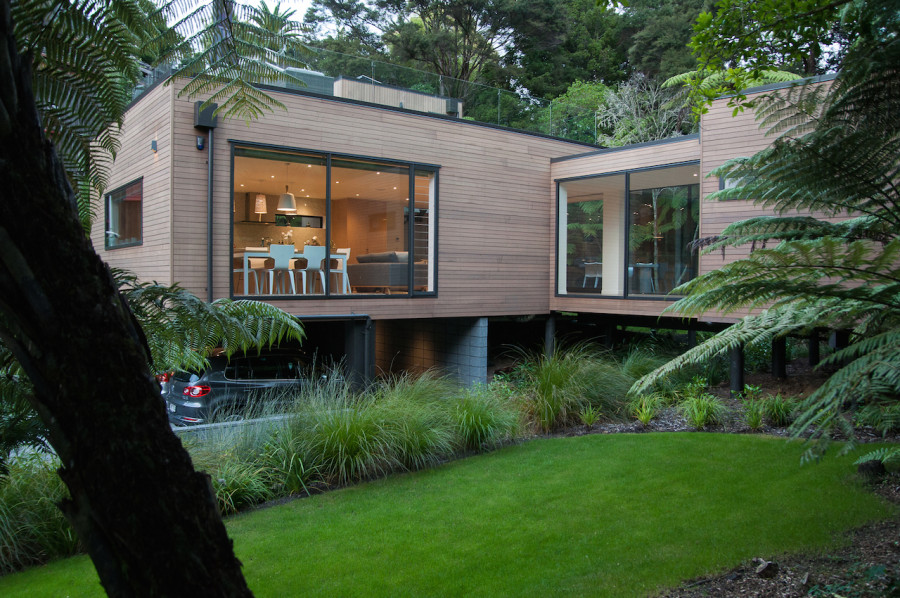 You'll probably note how the cladding has weathered over the 8 months as well. We really like it, but I will be applying another coat of oil before next summer to ensure the timber is adequately protected and the colour holds at about the same tone it is now. From then on, it should only be a coat every five years.