Our Dream
Home
We fell in love with a section riddled with challenges. But it's those very same challenges providing us with the opportunity to create a truly unique home.
At 1,379sqm in size, the giant section in Castor Bay and just a stroll to the beach, had been on the market for six years. Offers had fallen through and it had been passed in numerous times at auction because people ultimately thought it was too difficult to build on. It's triangular in shape with beautiful native trees surrounding it on three sides and a bubbling little stream flowing right through the middle. Naturally these aspects of the section present a variety of planning and consenting issues.
You know that feeling you get when something just 'feels right'? Well that's what we had when we first checked out the section, despite the entire plot of land being covered in head high overgrowth. Although it was rough around the edges, we knew this huge chunk of land provided us with an amazing opportunity to create a special home. So we made a very cheeky conditional offer that was immediately accepted. "You're mad" most people said. But we reckon we can prove them wrong.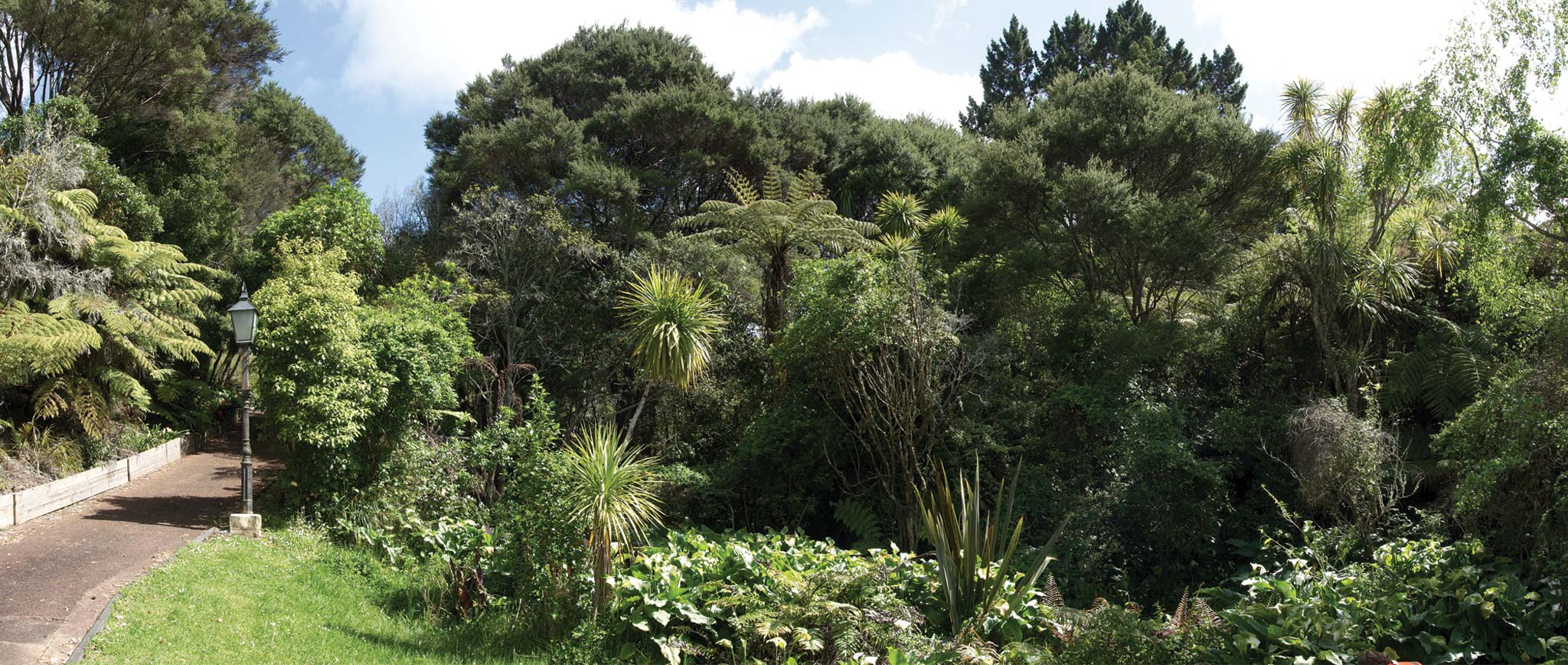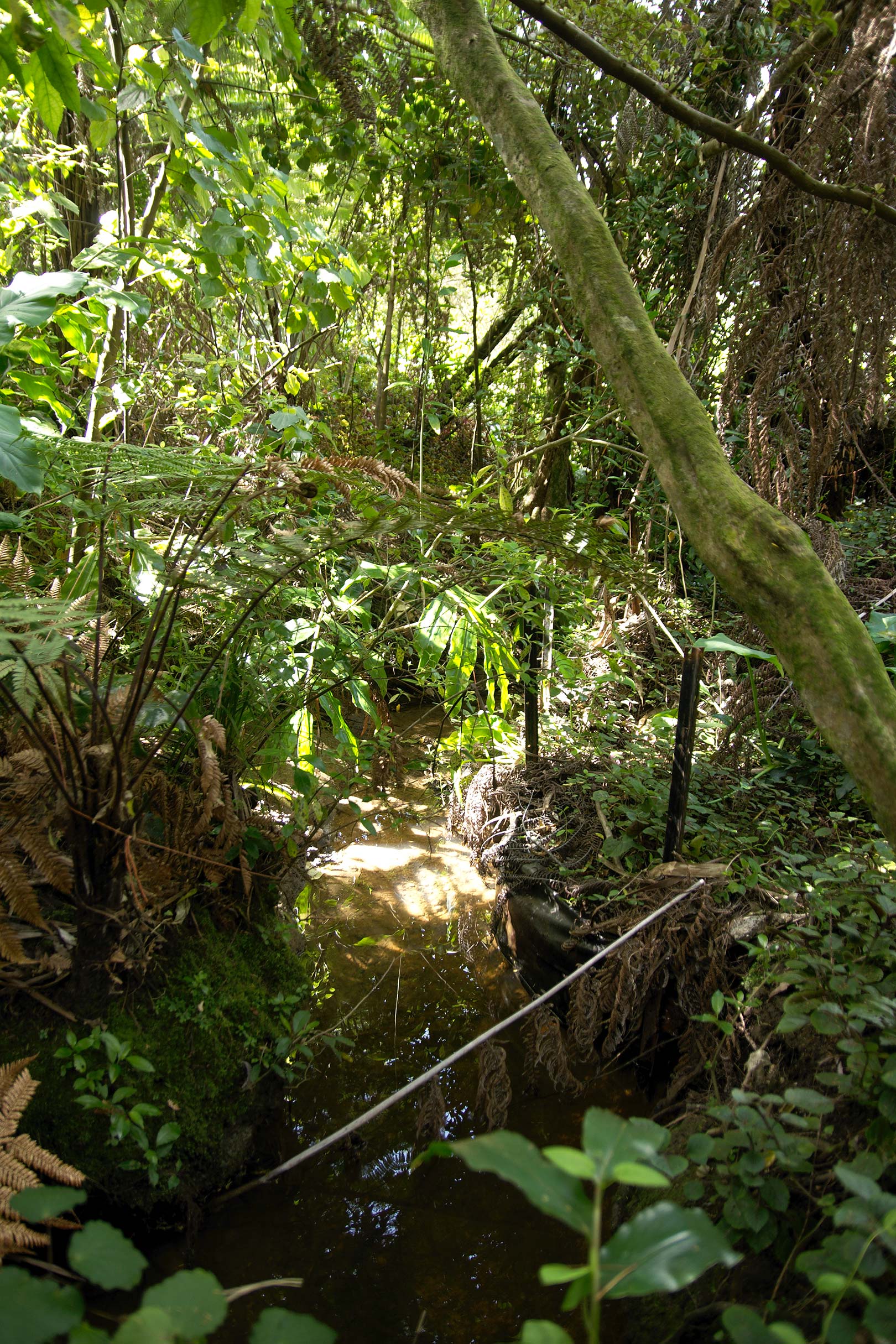 Our Secret Weapon:
The Stream
Ok, so currently it's more like a dirty ditch, but how cool is it to have a natural water feature flowing through your property? Double thumbs up cool! Obviously this waterway had proved to be the stumbling block for so many potential buyers in the past, however from the moment we first laid eyes on it, we saw the potential for the stream to become the central feature of our house design.
Combined with the beautiful mature trees surrounding the site and the tuis, wood pigeons and bellbirds living in their canopies, we couldn't believe our luck to find a natural gem like this in such a prime location. Some would say it was love at first sight.
Full of big ideas and tons of enthusiasm, we left the section after our first visit believing that with a lot of hard work and some innovative design solutions, we could build an extremely unique home for ourselves. So we started putting our ideas on paper, designing our possible dream home around these beautiful natural assets rather than trying to work against them.
Our Design Concept
Having never designed a house before, and lacking any real understanding of engineering related restrictions that might be imposed, we were free to dream big. The design philosophy we had centered around capitalising on the unique aspects of the site, and that started with the stream. Could it flow through the middle of our house? Why not!
So we began sketching out countless ideas and arrived at a layout we loved – two rectangular 'pods' either side of the stream that were then connected together by a glass bridge spanning the water. The kitchen, dining and living areas could go on the sunniest side of the stream, while the bedrooms and bathrooms could slip in below the bush canopy on the other side. Yes please.
Being in such a wooded setting and heavily influenced by Scandinavian aesthetics, we decided that the house needed to blend into the land, meaning the use of natural materials, especially cedar, which we are both fond of. Then to ensure the home opened out to the spectacular outdoors, we designed every room with huge floor to ceiling windows and doors.
Well that's the concept anyway, but we're under no illusion as to the construction challenges involved to bring our dream to life. Let alone if it's even possible from a consent perspective. There's going to be a lot of sleepless nights ahead as we try to finalise the design, seek a variety of council approvals and fight with our budget.

The Plans
As we fine tune our design we'll keep adding images and updates to this page so you can keep up to date with our progress. No doubt there'll be loads of changes, iterations and compromises. But hopefully not too many tears!

You can see the progression of our plans, from some of our early sketches, through to the resolved floor layout and then the
pièce de résistance in all its 3D magnificence. You can also read more about our design in this post on our build diary.